July, 2016
Moscow has always been a central point of Russian culture, and now it remains the biggest treasurer for every artist. This is not surprising because there are over 75 museums and a great number of art galleries and exhibition halls in the Russian capital city. The spectacular museum – State Tretyakov Gallery – is one of the best places to visit in Moscow and also the largest museum in Russia with over 100,000 works of art – paintings, icons, graphics and sculpture which span the entire history of Russian art.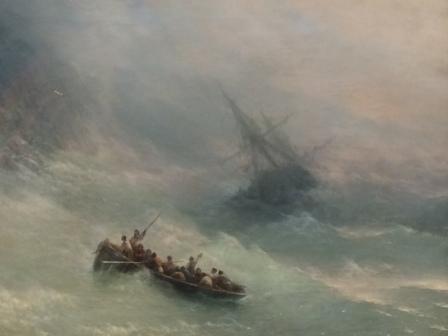 An exhibition as a tribute to its founder
The Tretyakov Gallery is preparing for a special exhibition this year ahead of the 200th birth anniversary of the most renowned and favourite Russian artist – Ivan Aivazovsky, which the world will commemorate on July 29, 2017. The exhibition "Ivan Aivazovsky: 200th Anniversary at The State Tretyakov Gallery" will present about 100 paintings and 50 drawings from a number of art works created by Ivan Aivazovsky. Visitors will be introduced to the best masterpieces by Ivan who was a famous marine painter, painter of battle-pieces and graphic artist. Four of most significant canvasses of Aivazovsky will be displayed at the exhibition including The Rainbow (1873) and The Black Sea (1881), The Highest Wave (1850) and The Wave (1889). For the first time ever general public will be able to see and admire the large-scale canvass "At the Coast of the Caucasus (1885)" in this exhibition.
Special documentary: The documentary section of the exposition will tell visitors about Ivan Aivazovsky and will also include models of ships, compasses, globes and telescopes.
When: The exhibition will run in the Tretyakov Gallery (address: 10, Krymsky Val) from July 29 to November 20, 2016
A Few Words about the Tretyakov Gallery
This first public Gallery has been named after its founder Pavel Tretyakov, who was a Russian merchant and patron of the arts. Tretyakov bought the estate where the museum now stands in 1852 and moved his collection of art here. He commissioned portraits of the great contemporary figures of Russian art and literatures from the best artists and kept it in the museum. In 1892, he donated his collection to the city of Moscow and since then the Gallery became a world-famous museum. Presently, the Gallery contains more than 170,000 works by Russian artists, from early religious paintings to modern art.
So, if you're visiting this magnificent city in coming months, don't forget to attend this truly breathtaking exhibition. The State Tretyakov Gallery is one of the best places to visit in Moscow, but visiting it during such historic exhibitions will enable you to have a better understanding of Russian art and culture.